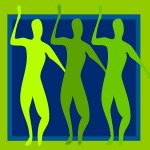 So a few nights ago, on Twitter, I did a search on my name: Faydra Deon.
I have several Twitter accounts, and I couldn't remember the exact letters I used for a particular handle. Since I always use Faydra Deon as my actual name, I knew I could find the account that way.
Lo and behold, to my utter amazement, I found an account with the handle @sepesyru using my name, avatar and bio.
This is so not one of my accounts! I wasn't as angry about this person impersonating me as I was about the content of the timeline. It's nothing but affiliate links; links to try to get people to buy crap!
Anyone who's been following me for a good, long while knows that I'm always tweeting that I don't tweet affiliate links. I'm very adamant about this. I hate those things!
As much as I tweet and autotweet, I don't try to trick people into buying things so I can make money off them. Maybe I should, but that's just not in my DNA. I have a "truth in tweeting" personal policy.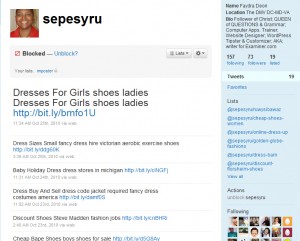 You know what, though? Had this account not used my real first and middle name, I still wouldn't know they existed. It was that they were so bold as to use all my information that led me to it.
I reported the account to Twitter, and I'm grateful to all the folks who have blocked the account and reported it as spam. It'll be interesting to see how long it takes to get the account closed.
I reported it on 06 January 2011.
I'll let you know when it gets closed.
AN ASIDE: I now wonder if this is why there was a stint when I had people who would tweet me about sending out affiliate links. I was so annoyed by this and I'd go on a Twitter rant about how I don't tweet affiliate links! If they were under the impression that bogus account was mine, then that's why they were tweeting me about it. Hm. That troubles me.
I now have a Google Alert set up to notify me if/when "Faydra Deon" is mentioned anywhere on the web.