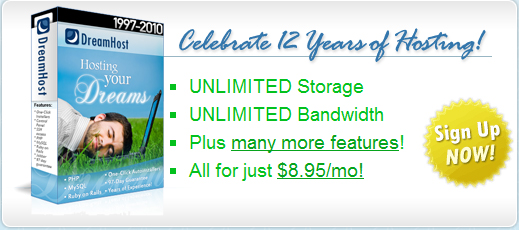 About a month ago, I decided to move the My Question of the Day (MyQOTD) blog to better hosting.
I was having way too many issues with down time on IX Webhosting, plus they were stifling me with their 2MB upload limit. I searched around trying to find the best alternative, because I also wanted to get my own virtual private server (VPS) for MyQOTD.
I have several sites hosted on FatCow, and this is where I set up all my clients who don't already have hosting when they come to me for web design/development, but as much as I dig Fatcow, they don't have the VPS option, and that was very important to me when I embarked on moving my most popular blog to new hosting. The MyQOTD blog is averaging about 500,000 hits a month now, and I need my own server to deal with the traffic.
Anyway, I was on the WebAssist site getting the activation code for one of my Dreamweaver extensions, and I noticed they were recommending Dreamhost as an excellent hosting choice.
I decided to check them out.
Right off the top, I saw that DreamHost offers VPS, so that was a good start.
They also offer a two-week trial, where they delay charging your debit/credit card so you have time to decide whether you want to stay with them or not. That was good, too.
Included, also, is the cost of one domain registration. Since I already had a domain that I wanted to host, I didn't use that, but they did let me know that I have a "domain credit," so that I can still get my included domain later when I decide what it will be. That was cool.
So I signed up, got my VPS, which costs me an extra $15 a month, but I want it and need it so I'm willing to pay for it, and took a look around.
Hosting heaven! (for me, anyway 😀 )
There's no real "control panel," like I have with IX Webhosting and FatCow, but there's so much control over my domains, databases and files that I don't even miss it!
The best part is that DreamHost allows 7MB uploads! That's a big deal for me, since I sometimes upload large images and audio files to my WordPress blogs.
Why am I sharing all this with you?
For a very limited time, DreamHost is offering a year of hosting and the registration of one domain for $9.24!
That's a 92% discount for new customers!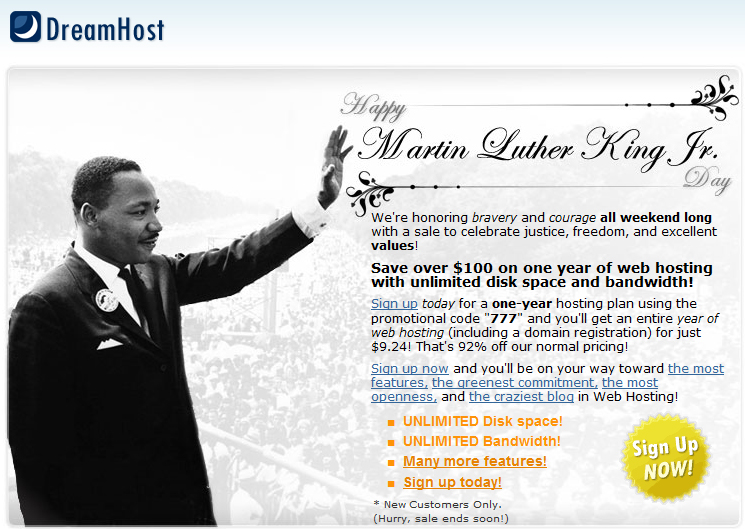 They're having this amazing sale in honor of Rev. Dr. Martin Luther King, Jr. Day, and I'm not mad at them for it! I just wish I could have gotten my first year of hosting for less than $10.
Anyway, if you're looking for new hosting, or even your first host, I'd say DreamHost is the way to go right now with this 1-year deal.
After the one year, you'll pay a little over $100 to renew, but you don't have to renew. Based on my experiences with them, though, I definitely plan to renew!
You need to enter code 777 to get the discount! Don't forget that. It's uber important.
Once you're set up, let me know if you need any help navigating around in the back end. I'm still learning, but I'm pretty familiar with it already.
By clicking the DreamHost link in my post, DreamHost will know that I sent you to them. They'll even give me a few pennies from that $9.24 they collect from you, so thanks for putting a little change in my pocket.